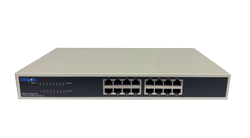 FEP-32016T-1
Installation Manual
FEP-32016T-1
16 Port 10/100Base-TX Fast Ethernet Switch
Unicom's Micro-Switch/16 is a compact store-and-forward device that offer low latency for high speed networking. It is targeted at workgroup, department, or backbone computing environments in SME (small, medium enterprise) businesses. 8 port 10/100 Fast.
The Micro-Switch/16 has a dedicated 10/100Mbps bandwidth. The full-duplex operation mode effectively doubles the bandwidth for each port. It can increase the bandwidth of the 10M Ethernet port and the 100Mbps Fast Ethernet port to 20Mbps and 200Mbps, respectively.
To enhance the performance, this switch supports IEEE 802.3 full-duplex flow control and half-duplex back pressure congestion control. In addition, the Micro-Switch/16 executes the method of store-and-forward by auto learning and stores source addresses on a 2K-entry MAC address table.
| | |
| --- | --- |
| Part Number | Description |
| FEP-32016T-1 | 16 Port 10/100Base-TX Fast Ethernet Switch |