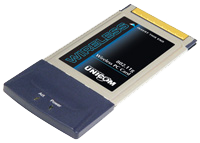 WEP-46032G
Installation Manual
WEP-46032G
802.11g Wireless PC Card

Unicom's 802.11g Wireless Card makes wireless networking easy. With its plug-and-play design, you will be up and running with wireless in no time.

Wi-Fi Compliant, Unicom's Wireless PC Card is compatible with all 802.11g and b wireless appliances. It provides all of the features and qualities that your family and home office demand, like 256Bit WEP Encryption for secure data and speeds up to 54Mbps.

Perfect for home, small networks, and anyone on the go. Unicom's Wireless products are ideal for mobile and remote users and situations where a wired installation is either cost prohibitive or difficult to employ.
Ordering Information
Part Number Description
WEP-46032G 802.11g Wireless PC Card