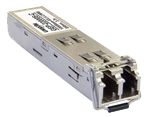 GEP-22000S-L, GEP-22100L-L
GEP-22000S-L, GEP-22100L-L
GBIC (Mini) SFP Ethernet Transceiver
Unicom's new GBIC (Mini) SFP Ethernet Transceiver presents the newest standard in optoelectronic interfaces. The duplex LC extends fiber optic Gigabit Ethernet signals up to 10km.
It offers exceptional insertion loss characteristics and its smaller size maximizes low cost, high density applications.
Unicom's new GBIC (Mini) SPF Ethernet Transceiver meets all existing GBIC SPF size and performance standards.
Part Number

Description

GEP-22000S-L

GBIC SFP Transceiver, 1000SX, LC, Multi-Mode, 500m

GEP-22100L-L
GBIC SFP Transceiver, 1000LX, LC, Single Mode, 10km
3.3V, hot swappable

*3.3/5.0V, Hot Swappable/font>

*Compatible with DynaGST Series switches