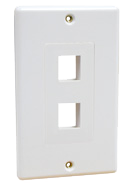 MS5-F01S-XX*, MS5-F02D-XX*, MS5-M100-XX*, MS5-M400-XX*, MS5-M600-XX*, MS5-M11F-XX*, MS5-M12F-XX*, MS5-M200-XX*, MS5-M21F-XX*, MS5-M22F-XX*, MS5-M04S-XX*
MS5-F01S-XX*, MS5-F02D-XX*, MS5-M100-XX*, MS5-M400-XX*, MS5-M600-XX*, MS5-M11F-XX*, MS5-M12F-XX*, MS5-M200-XX*, MS5-M21F-XX*, MS5-M22F-XX*, MS5-M04S-XX*
The Impressa™ Designer Faceplate & Inserts

Combine voice, data, audio and video in one compact, attractive Impressa™ Faceplate and Inserts. The Impressa™ Series offers designer style to match many modern style electrical switches and outlets, with the capacity and flexibility to support high-tech communications for the home or office. Simply snap in the Unicom module of your choice to customize multimedia options you desire.
The inserts are available both pre-loaded with gold plated coax connectors to support Grade 1 or Grade 2 residential installations and unloaded for more flexibility. The faceplates come in single and double gang configuration. The Impressa ™ Faceplate and Inserts are compatible with all standard NEMA openings and is UL Listed.
| | |
| --- | --- |
| Part Number | Faceplates Description |
| MS5-F01S-XX* | Faceplate, Single Gang |
| MS5-F02D-XX* | Faceplate, Double Gang |
| | |
| --- | --- |
| Part Number | Inserts Description |
| MS5-M100-XX* | Module, (1) Keystone port |
| MS5-M400-XX* | Module, (4) Keystone ports, white only |
| MS5-M600-XX* | Module, (6) Keystone ports, white only |
| MS5-M11F-XX* | Module, (1) Keystone port + (1) F-type connector |
| MS5-M12F-XX* | Module, (1) Keystone port + (2) F-type connectors |
| MS5-M200-XX* | Module, (2) Keystone ports |
| MS5-M21F-XX* | Module, (2) Keystone ports + (1) F-type connector |
| MS5-M22F-XX* | Module, (2) Keystone ports + (2) F-type connectors |
| MS5-M04S-XX* | Module, (4) Audio Binding Posts, (2 pairs) |
* XX = EA - Electric Almond, EI - Electric Ivory, EW - Electric White